...

peace, privacy!
Welcome to Makani Akau

Location
Pool and Grounds

Interior

Bedrooms
Photo Gallery
Rates and Details
Contact Us

Gas BBQ
Pool
Hot-tub
outdoor shower

walking distance to the shops/restaurants in Paia town
fully fenced for privacy and security
Makani 'Akau is an oceanfront property that sits on the east side of Paia, facing west towards the sunset. The setting is just stunning! Your first view upon entering the gate is looking through the glass door, across the entry area and patio to the ocean framed by palms and the sandy beaches of Paia Bay, Baldwin Beach and Spreckelsville Beach. The property is fenced and lined with vegetation on both sides to provide ample privacy. Makani Akau is walking distance to all of the shops and restaurants in Paia.


The ocean is rocky in front of the house, and therefore we do not recommend ocean access from the property. The sandy beach of Paia Bay is within walking distance. THE POOL IS NOT FENCED, but has an electric pool cover that must be used when small children are staying at the house.

The house was built to take advantage of the oceanviews. It runs parallel to the ocean with almost every room having a full oceanview. A 55ft pool sits between the house and the ocean.
With a view like this, why would you go out in the evening????

The color of the ocean and sky!

Pool

Evening at Makani Akau

An overhung patio runs across the front of the house with comfy teak furniture.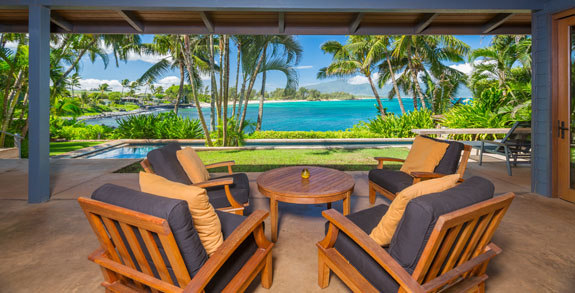 View from the patio looking across to Paia Bay beach

Entry

Gas BBQ

Did we mention the view from the hot-tub??